Rome Ciampino Airport Departures (CIA)
Not all flights may be showing. If not available use search above to find your flight by airline, airport or flight number.
Destination
Airline
Flight no.
Scheduled
Est./Actual
Status
Cagliari (CAG)
Ryanair
FR4324
10:55
Scheduled
Corfu (CFU)
Ryanair
FR1670
11:05
Scheduled
Malta (MLA)
Italy - Government
IAM9002
11:15
Scheduled
Lisbon (LIS)
Ryanair
FR1321
11:40
Scheduled
Wroclaw (WRO)
Ryanair
FR2114
11:50
Scheduled
Abu Dhabi (AZI)
Servizi Aerei
SNM923
12:30
Scheduled
Liverpool (LPL)
Ryanair
FR1934
12:55
Scheduled
Budapest (BUD)
Ryanair
FR8246
12:55
Scheduled
Warsaw (WMI)
Ryanair
FR3865
12:55
Scheduled
Edinburgh (EDI)
Ryanair
FR5590
02:20
Scheduled
No flight departures were found at Rome Ciampino Airport.

Flight Departures at Rome Ciampino Airport
Around 5.5 million people use Ciampino airport every year, making it one of Italy's busiest aviation hubs.
Due to a third airport being planned for Rome, the only airlines currently operating out of Ciampino are Ryanair and Wizz Air. There are four terminals with an information desk in each and numerous services, shops and amenities for passengers to enjoy prior to their departure.
The General Aviation Terminal has ATM cash points and banks are at hand for any other money matters. In the departure area there are two bank branches, one of Unicredit Group and one of Monte dei Paschi di Siena, which are open from Monday to Sunday from 08.25 am to 01.35 pm and from 02.55 pm to 03.35 pm. The Currency Exchange office in the departure area is open from Monday to Friday between the hours of 08.00 am to 09.00 pm. In the arrivals zone the Currency Exchange office is open on the same day and between the same hours also.
Rome Ciampino Airport departures have a choice of destinations, which include Chanos, Kos and Budapest, Leipzig, Glasgow, London, Manchester, Milan, Brindisi and Bari in Italy, as well as Paris in France and Krakow in Poland among many other European destinations.
A first aid station is open 24 hours every day of the year, dealing with emergencies and passengers general health care. The First Aid station can be found beyond the security checkpoint. Departure passengers with children are provided with nurseries at the departure zones, just before the security checkpoint.
Departures at Rome Ciampino Airport will find numerous cafes, restaurants and bars in the terminals. Most eateries are open from 06.00 am to midnight, both in the areas before and after security checkpoints.
General shopping and Duty Free shopping is also available for departures with valid boarding passes. Taxi journeys from central Rome and other parts of the city will cost from around EUR 35.00 to EUR 40.00 for the trip, depending on the time of day and how heavy the traffic is.
For early morning departures at Rome Ciampino Airport it is perhaps best to stay overnight in the airport hotel that is located within a 3 km distance of the departure terminal. Hotel Villa Giulia is just a short walk from the Ciampino train station which links the airport with central Rome.
From Ciampino railway station there are airport buses that take passengers to the departure area for a fare of just EUR 1.00 per person. COTRAL/Schiaffina buses operate on a 15 minute interval basis from the Anagnina stop of Metro Line A for Ciampino. Buses from the take mainline train station Roma Termini in the heart of the city take ca. 40 minutes to arrive at the airport.
Departures now have WiFi access within the departure terminal, a service provided by operator Boingo. Customers with an account can log on straight away, passengers without an account will be redirected to a page to set up an account for pay-as-you-go services within the airport. The service is available for laptops and palm devices such as mobile phones.
Departures with parking requirement should reserve parking spaces online.
Was your flight delayed or cancelled?
You may be eligible to receive up to 600 EUR compensation per person in your party..
Claim Now!
Lounge like a VIP
Avoid the crowds. Get discounted access to the VIP airport lounge. Its not as expensive as you may think.
Book now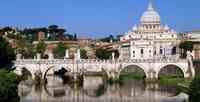 One would be hard pressed to name another city with so many tourist attractions...