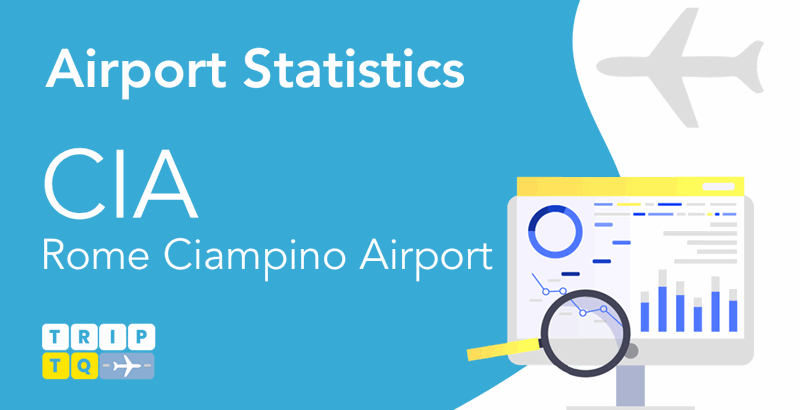 Rome Ciampino Airport Passenger Traffic in Q3 2023, Up 3% Year on Year
Rome Ciampino Airport in Italy saw a 3.07% increase in passenger traffic in the third quarter of 2023, compared to the same period in 2022. This is the first increase in passenger traffic at the airport since the end of the pandemic. However, Q3 2023 figures are still below pre-pandemic levels in Q3 2019 and post-pandemic Q3 2021.
Sustained Passenger Growth at Rome Ciampino Airport - Q3 2023
Rome Ciampino Airport in Italy has been making continuous efforts to increase passenger volume growth. The significant improvement in Q3 2023 is a testament to these efforts. Compared to the same quarter of the previous year, there was a positive change of 3.07%. This encouraging progress underscores the airport's commitment to enhancing its services and facilities.
From Q3 2019 to Q3 2023, the airport has seen a general upward trend in passenger numbers. In Q3 2019, the airport served 1,549,493 passengers. Despite a dip in numbers during the global pandemic in Q3 2020, the airport bounced back with a remarkable increase of 148.20% in Q3 2021 compared to the same quarter of the previous year.
This upward trajectory continued into Q3 2022, with the airport serving 981,450 passengers. In Q3 2023, the airport served 1,011,579 passengers, indicating a slight increase from the previous year but still maintaining a high passenger volume.
Rome Ciampino Airport Passenger Volume - Q3 2019 to Q3 2023
The Q3 2023 passenger traffic data for Rome Ciampino Airport reveals a strong recovery compared to the rest of the quarters. The airport has not only bounced back from the global pandemic but has also surpassed the pandemic levels of Q3 2020 and the subsequent quarters.
The airport's recovery is evident when comparing Q3 2023 to Q3 2019. In Q3 2019, the airport served 1,549,493 passengers. Fast forward to Q3 2023, and the airport served 1,011,579 passengers. While this is a significant recovery from the pandemic levels, it has not yet reached the pre-pandemic levels of Q3 2019.
While the airport has made significant strides in recovering from the impact of the pandemic on passenger traffic, the growth rate in Q3 2023 compared to Q3 2022 has slowed down a bit. However, the overall trend is positive, and the airport continues to make strides in increasing passenger volume.
Passenger Traffic at Rome Ciampino Airport – 2019 to 2022
The passenger traffic at this airport has seen a significant increase over the years. In 2018, the airport served 5,812,451 passengers. This number slightly increased by 0.79% to 5,858,641 passengers in 2019. However, due to the global pandemic, there was a drastic drop of 72.59% in 2020, with only 1,606,032 passengers.
In 2021, the airport saw a rebound with a 43.13% increase in passenger traffic, serving 2,298,697 passengers. The most significant increase occurred in 2022, with a 51.21% increase, bringing the total number of passengers to 3,475,902. This surge in passenger traffic could be attributed to the easing of travel restrictions and the return of consumer confidence in air travel.
Flight Statistics at Rome Ciampino Airport - September 2023
In September 2023, this gateway served a variety of routes, both domestically and internationally. The top country destinations from this airport were the United Kingdom, Italy, Poland, Romania, and France.
Internationally, the most frequented destinations were London, Paris, Lisbon, Manchester, and Bucharest. Domestically, the busiest routes were to Cagliari, Milan, Turin, Palermo, and Lamezia-Terme.
The airlines that operated the most flights from this hub during this period were Ryanair, Wizz Air, Italy - Air Force, Malta Air, and VistaJet Malta. These statistics provide a snapshot of the diverse range of destinations and airlines that this airport caters to, reflecting its role as a vital hub for both domestic and international travel.
Are you a travel publisher and would like this information for your site/blog/publication?
Contact us on this form to request Rome Ciampino Airport Statistics (Statistics, data and infographics are available for a wide range of airports worldwide - please tell us your requirements using the form)
UNBEATABLE VALUE CAR RENTAL

FREE
Amendments,
FREE
Cancellations,
NO
card fees!

airport_shuttle Need Airport Transfers?
Useful Information about Rome Ciampino Airport