Flights, Arrivals & Departures at Rome Ciampino Airport
Origin
Airline
Flight no.
Scheduled
Est./Actual
Status
Sofia (SOF)
Ryanair
FR6308
07:35
Scheduled
Belgrade (BEG)
Wizz Air
W68328
07:45
Scheduled
Iasi (IAS)
Wizz Air
W43675
08:05
07:27
Landed
London (STN)
Ryanair
FR2455
09:40
Scheduled
Budapest (BUD)
Ryanair
FR6515
09:55
Scheduled
Brussels (CRL)
Ryanair
FR9720
10:30
Scheduled
Kerkyra (CFU)
Ryanair
FR1671
10:40
Scheduled
Paris (BVA)
Ryanair
FR9632
10:50
Scheduled
Krakow (KRK)
Ryanair
FR9661
10:55
Scheduled
Berlin (BER)
Italy - Air Force
IAM3148
11:14
Delayed
Farnborough (FAB)
FAI rent-a-jet
IFA6284
11:36
Delayed
Birmingham (BHX)
Platoon Aviation
PTN123
11:54
Scheduled
London (STN)
Ryanair
FR2510
12:05
11:53
Landed
Tangier (TNG)
Ryanair
FR4552
12:05
11:47
Landed
Liverpool (LPL)
Ryanair
FR1935
12:30
Scheduled
Cagliari (CAG)
Ryanair
FR4323
13:30
Scheduled
Olbia (OLB)
VistaJet Malta
VJT464
14:44
Scheduled
Bucharest (OTP)
Ryanair
FR3957
14:50
Scheduled
Alghero (AHO)
Italy - Air Force
IAM3191
14:53
Scheduled
Zurich (ZRH)
Solairus Aviation
TWY262
15:21
Scheduled
Milan (LIN)
Italy - Air Force
IAM3146
15:36
Scheduled
Sofia (SOF)
Wizz Air
W64315
15:55
Scheduled
Wroclaw (WRO)
Ryanair
FR2113
16:10
Scheduled
Bratislava (BTS)
Ryanair
FR4225
16:35
Scheduled
Budapest (BUD)
Ryanair
FR8247
16:35
Scheduled
Manchester (MAN)
Ryanair
RK3204
16:40
Scheduled
Wasaw Modlin (WMI)
Ryanair
FR3866
17:55
Scheduled
Lisbon (LIS)
Ryanair
FR1320
18:10
Scheduled
Cagliari (CAG)
Italy - Air Force
IAM3151
18:25
Scheduled
London (STN)
Ryanair
FR2672
19:10
Scheduled
Manchester (MAN)
Ryanair
FR3206
20:35
Scheduled
Cagliari (CAG)
Ryanair
FR6752
20:55
Scheduled
Edinburgh (EDI)
Ryanair
FR5589
20:55
Scheduled
Bucharest (OTP)
Ryanair
FR3959
21:05
Scheduled
London (STN)
Ryanair
FR3002
21:10
Scheduled
Lisbon (LIS)
Ryanair
FR2097
21:20
Scheduled
Paris (BVA)
Ryanair
FR9636
21:40
Scheduled
Gudja (MLA)
Ryanair
FR5587
21:55
Scheduled
Gudja (MLA)
Italy - Government
IAM9002
23:04
Scheduled
Destination
Airline
Flight no.
Scheduled
Est./Actual
Status
Brussels (CRL)
Ryanair
FR9719
06:00
Scheduled
Tangier (TNG)
Ryanair
FR4551
06:00
Scheduled
Paris (BVA)
Ryanair
FR9631
06:10
Scheduled
Budapest (BUD)
Ryanair
FR6516
06:15
Scheduled
Murcia (RMU)
Italy - Air Force
IAM3151
06:30
Scheduled
Krakow (KRK)
Ryanair
FR9660
06:30
Scheduled
London (STN)
Ryanair
FR2456
06:35
Scheduled
Sofia (SOF)
Ryanair
FR6309
08:00
Scheduled
Dublin (DUB)
Italy - Government
IAM9003
08:10
07:56
En-Route
Belgrade (BEG)
Wizz Air
W68327
08:20
Scheduled
Iasi (IAS)
Wizz Air
W43676
08:40
Scheduled
London (STN)
Ryanair
FR2509
10:05
Scheduled
Bucharest (OTP)
Ryanair
FR3956
10:20
Scheduled
Cagliari (CAG)
Ryanair
FR4324
10:55
Scheduled
Corfu (CFU)
Ryanair
FR1670
11:05
Scheduled
Malta (MLA)
Italy - Government
IAM9002
11:15
Scheduled
Lisbon (LIS)
Ryanair
FR1321
11:40
Scheduled
Wroclaw (WRO)
Ryanair
FR2114
11:50
Scheduled
Abu Dhabi (AZI)
Servizi Aerei
SNM923
12:30
Scheduled
Nice (NCE)
Platoon Aviation
PTN127
12:50
Scheduled
Alghero (AHO)
Italy - Air Force
IAM3191
12:50
Scheduled
Liverpool (LPL)
Ryanair
FR1934
12:55
Scheduled
Budapest (BUD)
Ryanair
FR8246
12:55
Scheduled
Warsaw (WMI)
Ryanair
FR3865
12:55
Scheduled
Edinburgh (EDI)
Ryanair
FR5590
14:20
Scheduled
London (STN)
Ryanair
FR2673
15:40
Scheduled
Naples (NAP)
VistaJet Malta
VJT464
16:00
Scheduled
London (LTN)
Solairus Aviation
TWY262
16:20
Scheduled
Sofia (SOF)
Wizz Air
W64316
16:30
Scheduled
Bucharest (OTP)
Ryanair
FR3958
16:35
Scheduled
Bratislava (BTS)
Ryanair
FR4226
17:00
Scheduled
Lyon (LYS)
Italy - Air Force
IAM3134
17:00
Scheduled
Paris (BVA)
Ryanair
FR9635
17:00
Scheduled
Manchester (MAN)
Ryanair
RK3205
17:05
Scheduled
Cagliari (CAG)
Ryanair
FR6753
18:20
Scheduled
Malta (MLA)
Ryanair
FR5586
18:40
Scheduled
London (STN)
Ryanair
FR3003
19:35
Scheduled
Malta (MLA)
Portuguese Air Force
AFP48
20:00
Cancelled
Manchester (MAN)
Ryanair
FR3207
21:00
Scheduled
Lisbon (LIS)
Ryanair
FR2098
21:45
Scheduled
Flying To and From Rome Ciampino Airport
This page provides information about the destinations that can be reached via Rome Ciampino Airport.
Was your flight delayed or cancelled?
You may be eligible to receive up to 600 EUR compensation per person in your party..
Claim Now!
Lounge like a VIP
Avoid the crowds. Get discounted access to the VIP airport lounge. Its not as expensive as you may think.
Book now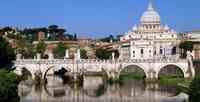 One would be hard pressed to name another city with so many tourist attractions...